(Last Updated On: August 28, 2022)
"The journey of a thousand miles begins with one step." – Lao Tzu.
Hi, There, fellow bloggers.
Congratulation!
You're most likely reading this article because you are thinking about starting a blog (online business), or you are in the process of doing so. It is a significant step and is excellent news for you since blogging is a great way to share your thoughts, ideas, and opinions with the world.
As a newbie blogger, it's a lot to learn. How to start a successful blog, how to write great content, and how to grow your audience. Just simply saying a lot of work ahead of you.
However, don't forget one of the most important aspects of blogging – protecting your blog from legal trouble. I know the legal stuff is boring, but it's necessary.
Legal pages like legal documents don't need to be complicated if you know what you need.
Legal pages are the most critical part of your blog, and you should take them seriously, just like anything else related to blogging.
Legal issues can get in the way of all that hard work, so it's best not to leave things unattended.
One of the biggest and most expensive problems could be a piece of legal advice and a few legal pages from a business lawyer.
And the question of:
What are the right legal pages you need as a new blogger?
But don't worry, I got your back!
That's why in this post, I will cover four legal resources every newbie blogger should be aware of and use as they build their blog.
Creating legal pages doesn't have to be expensive!
New to blogging
After all, blogging is not just about sharing thoughts or ideas with the world; it is also a way of making money via advertisements, party links, and sponsored posts on social media platforms. 
But there's one more thing you need to know: How to protect your blog from legal action.
I had no idea how essential legal pages were when I was starting. I thought it was secure as long as my blog provided outstanding material and didn't violate any copyright rules.
Nothing more wrong!
I was blinded by excitement.
I just wanted to start on this journey of self-expression right away!
The faster, the better to express "me", share my thoughts, and connect with people who had similar interests.
That's what I did quickly, start building the website, creating pages, and menus, generating images, and of course, great content.
It was so much fun!
I did my hard work. I had my blog, and I hit publish, not even thinking about the legal side of my blog.
I had no clue about website terms and conditions, privacy policies, Disclaimer, or cookies; till I saw a Pinterest pin about all the legal pages. How legally protect your blog etc.
At first, I thought it wasn't that important since I don't make any money yet or sell any products.
Boy, was I wrong!
I forgot about the affiliate link in my blog post, and it was an affiliate program I joined a few days prior.
That is why Legal pages are one of the most critical aspects of your blog from the beginning and should be taken very seriously.
There are a few basic legal pages that all bloggers should have to protect their blog from any legal dispute.
In this post, I will share four legal sources to help protect your blog from any legal matter and keep you and your site in compliance with the regulations. 
Why do you need legal pages on your blog?
To blog legally!
When starting your website, it is essential to follow all legal rules regarding legally compliant pages in your blog. Legal pages are important because they provide consumers with a sense of security and confidence to understand their needs and expectations.
It might be tough to keep your word while working with clients/customers regularly if you lack the necessary information, skills, or experience.
Legal pages help you identify your rights and your responsibilities as a blogger.
Each Legal page will provide information on how to comply with "general data protection regulation," ensure the safety of visitors and keep yourself from getting sued.
Legal Pages are essential that you have them on your blog, as they protect both you and your readers.
And, of course, comply with the law.
As a blogger, it's essential to have your legal pages in order, including having a Privacy Policy, Terms of Service, and Disclaimer.
These pages help inform your readers how you will use their information and what rights they have, and then they also protect you legally by setting out the terms of use.
What Legal Pages Every Blogger Needs and Be sure to include all legal pages for your new blog:
Privacy Policy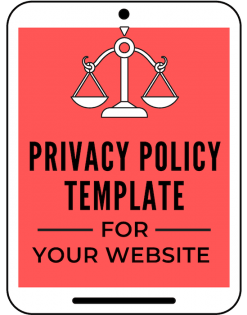 The privacy policy is one of the most important legal pages on a website. This page explains how website owners like you use personal "data collected" information.
Every website collects more or less personal information.
The most common personal data to be collected is;
names,
comments,
email addresses,
Google Analytics
cookies
etc.
When you develop your privacy policy, you must provide information on how and what data you collect, how long this data will be kept, and with who you may share it.
Your privacy policy should be clear and concise so your readers understand it. They should also know that they have the right to see, edit, or delete any information you have collected about them.
Cookies
Accepting cookies on the web is the most common way of finding out what information is collected.
As a blogger, cookies are beneficial for selling products and affiliate relationships.
When you have a blog post about a product or service, you can include a cookie statement to let your readers know that they will support your blog by clicking on the link and buying the product. It is a great way to make money as an affiliate while still providing valuable content.
The browser will send cookies data to the server when you visit a website. Cookies are small text files containing bits of information about your preferences or past actions on that site so they can speed up your future interactions with them.
But there's no need for anyone to feel creeped out about "cookies"; they are beneficial for both readers and bloggers.
When you visit a website, it will store some information on your browser in the form of small files called "cookies."
Cookies may contain personal details like username or email addresses that websites can store to provide certain functions or access specific parts of their site.
It is crucial for us bloggers that cookies exist; that's how we will get a commission from products sold by affiliate links by our blog posts and using third-party services.
Terms and Conditions
Terms and conditions are a part of your Legal Page that outlines the rules that govern your website. This is where you'll discover what your visitors can and cannot accomplish on your site, as well as any other restrictions that may apply.
There are a few items for your help, such as:
Intellectual property rights
Policies for a service or products you offer
Refund policy
Don't use your website in ways you're not allowed to, such as spamming or distributing threatening material.
Limitation of liability
ETC.
Disclaimer Page
A disclaimer is a legal notice that typically includes information about the purpose of your Legal Page, and waivers for any content published on your website or blog.
Simply saying, Everyone who will read your blog will know this is for educational and informational purposes only.
Any action the reader took is their responsibility, not yours.
The Disclaimer is a one-of- Legal Pages that can help protect you from any legal liability that may arise. This page describes your blog's limitations and what you are not liable for.
It's essential to have a precise and proper Disclaimer page, so there is no confusion about the content on your blog.
You must understand all of the content in your Legal Pages before publishing them. They may seem like basic pages, but they're vital when it comes to protecting your blog from the legal side.
How to create all your legal pages for your BLOG
Free legal templates
You can try creating Legal Pages yourself and save money but make sure that they're legally accurate for what is being said in each blog post or article.
You can find free legal templates or several other legal pages for your blog on various websites.
However, these templates can be challenging to use and may not be tailored to your specific needs. Especially may be difficult to edit if you don't know to code and how to use it in HTML.
I'm not a computer coder or a lawyer, and I don't know the law or coding, so I didn't feel comfortable using free templates to protect my blog.
But one thing I know is Legal Pages are crucial to have on the BLOG.
I CHOSE A DIFFERENT APPROACH because I couldn't trust free templates or my ability to write them independently.
Paid legal templates drafted by the Lawyer.
Legal templates should be easy to understand and not require a lot of customization, especially if you don't know how to code or aren't familiar with the law.
Legal pages should only take a few minutes to set up, as long as you have the right tools.
As I mentioned before, You can find free legal templates for your blog on various websites. However, these templates can be challenging to use and may not be tailored to your specific needs; this legal document can also be pretty expensive. Did you ever try to get any professional advice or legal expertise? Exactly!
So the best approach is to have a trusted attorney/blogger Amira from "A self guru," who took the time and created Legal Pages specifically for a blog.
This will ensure that you have the most up-to-date legal contract and information and that your pages are in compliance with all regulations.
Here are The Legal Bundle Templets for all three pages needed for your blog. The great thing is they come with free bonuses at no extra cost to you! Is it Great?
It's the most outstanding legal bundle value pack with proper legal pages.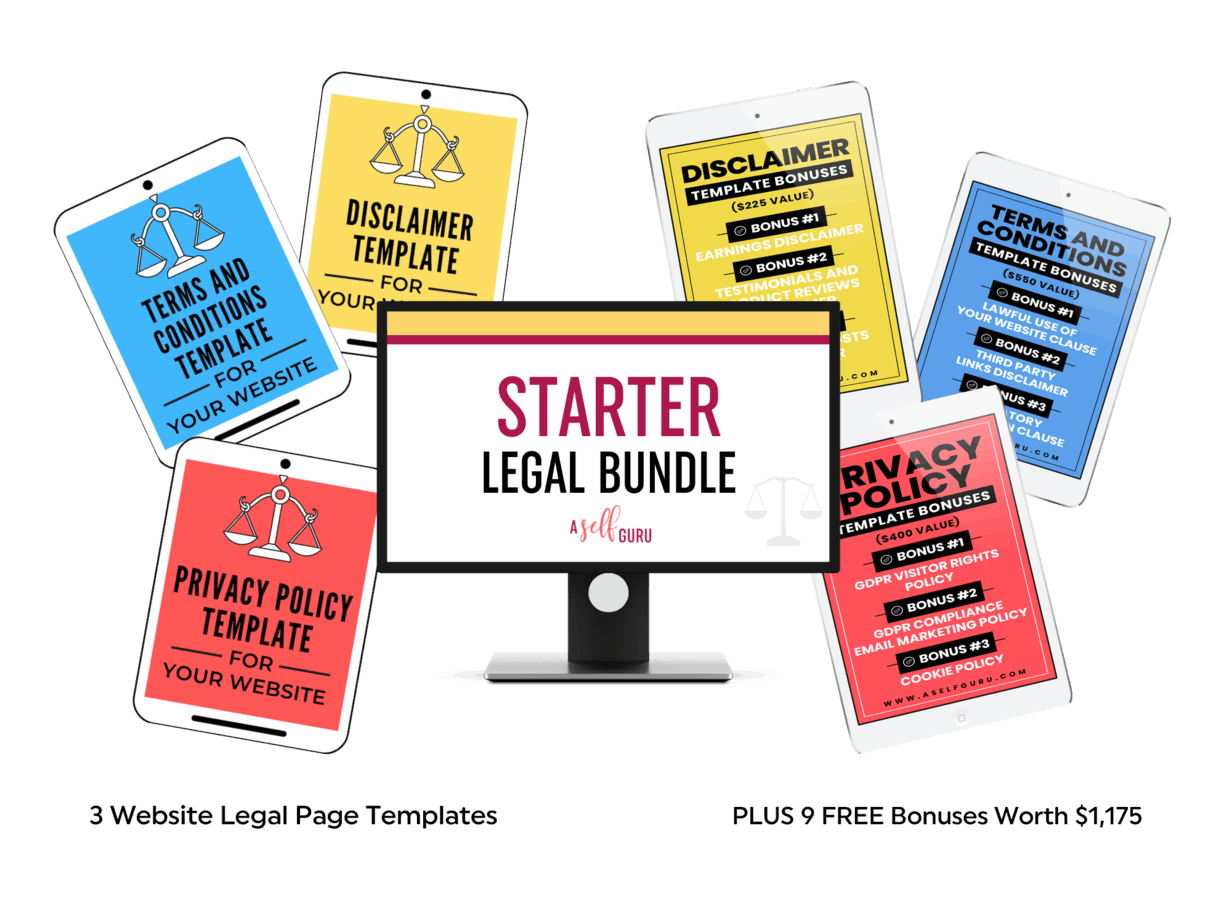 I love that there are such cool templates on the internet for blogging about the law. I used a few of them, and it only took me minutes to set up my own site! Their easy-to-find information is all thorough without being complicated or time-consuming."
I can imagine how tedious it must be, but with our Legal Bundle, you'll be safe and ready to focus on your blog's content once you've taken care of any legal problems.
What are you going to write about?
It's great to use ideas for topics as a business and not just write on the internet with no purpose.
Oh, I almost forgot, and you better not! On each page, have affiliate disclosure for third party links.
It may be something as simple as that:
"This page contains affiliate links, meaning I get a commission if you purchase through my links at no cost to you. Thank you for supporting my blog, and read the full disclosure here."
Good luck, and remember blogging should be FUN.
Final thoughts
I realize it was a lot of information, and it may seem a little overwhelming.
However, I'm sure you understand how crucial all your legal requirements are as a new blogger.
I hope the shared information helped you better understand the legal pages for your blog. Legal issues concerning blog posts can be tricky, especially if you don't have any experience in this matter.
I want your freedom!
That's why in this post, I was sharing three legal pages for Newbie Bloggers. These resources were able to help you learn about the legal aspects of blogging and cover the basics. Legal issues are something that every blogger should know about, and I specifically talked about how newbies can legally protect their blogs without breaking any laws or regulations.
If you like to check more legal templates:
Legal pages are highly beneficial to your business. A blog is an online journal where you get the opportunity to write about anything that you're interested in or passionate about while making money.
Thank you for reading, till next time.
Good luck, my friend, best wishes from me to you!
If you want to become successful with your BLOG, I recommend checking out these tools below: